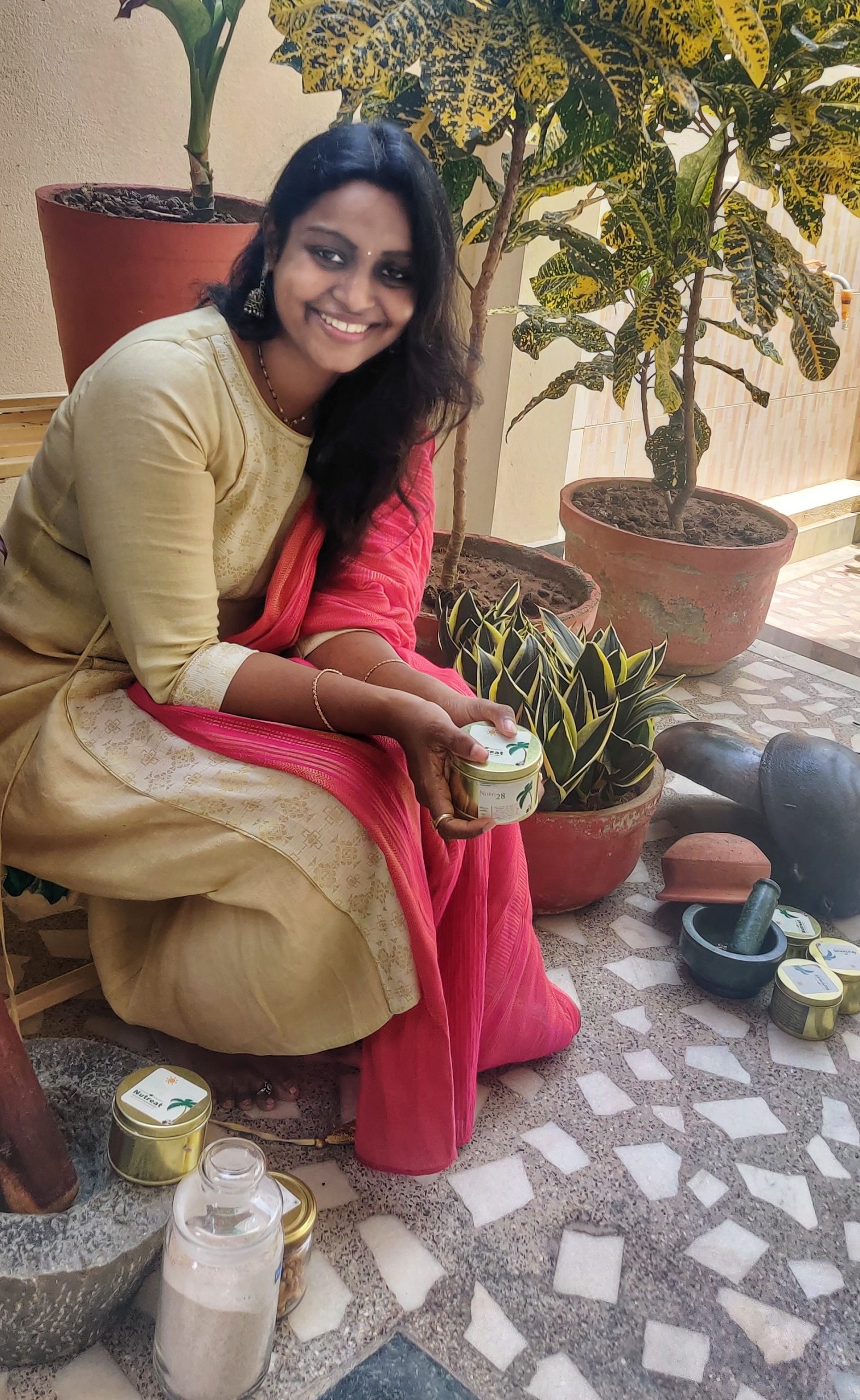 "I grew up asking questions on our traditional foods, culture, paintings, mythology, life experiences & their version of life. This natural enthusiasm loaded me up with huge lots of information on our traditions & culture which indirectly developed a uncommunicated social entrepreneur when I was still a teenager. Being a philanthropist by soul I never wanted to do a conventional course like Pharmacy. But however destiny made me to finish my Masters in Pharmacy from Sri Ramachandra University, Chennai.
When I wanted to avoid any packed foods for my boy, started delving our age old traditional foods like Ukkiri & my second baby "Nutreat" was born (That's the reason I never call as products) "
"" Many think Nutreat is a combination of Nutritious treat, but it is 'New Treat' which treats you with traditional recipes in a new way.
SHOP NOW
Always get bored...
A nature lover, painter, artist & nomad by nature like me can never ever be monotony. That's why you find 100's of recipes on my site either as standard or as customized.
Listening to customer & thinking about their requirements developed the concept of "Customization" where I indulge myself exploring & talking to different people all over world for recipes. This resulted in collaborations with farmers, rural women around the country- birthing "Project Sanative"
To openly say I am a crazy food strategist who always try cooking various varieties especially traditional dishes with li'll modern tinge.
Satish Kumar P-Chief of Finanace
Jyothi has SKP as her best partner both in #life & her dream Kitchen who is an engineer by profession and a smart financial guide by passion. He is the one who is leading Nutreat in a best way in all financial matters as well collaborations. His intellectual mind keeps us in driving safe without losing hope and performing best with zero budget marketing. After pursing his Masters from NIT, Calicut & MBA from UPES we works for ONGC as SE full time & drives Nutreat as Chief of Financial department part-time.
Swetha Noone-Managing Partner
Swetha is a mom two li'll angels and Nutreat's managin partner. A person with loads of patience who is a bridge between production team & customers. She takes care of the customer related issues & other collaborations.
This is really li'll about her she is the one who plays all-in-one role in the absence of Jyothi and manages everything that she could, right from production to packing, customer care to mentoring, whatever the role is she perfectly fits into it and contributes her 100%.
Of all she is bestie of Jyothi Sri who travels her all along with her.
Bhavana K-Production Partner
Handcrafting needs a person who can drive us more patient & can motivate, manage everyday with a cool mindset & our founder has Swetha has her bestie to manage this task at its best. A person who strongly believes that "Woman has to fly with same freedom as a man" . A mom of two cute kids who has surrounded herself with self confidence is into our Nutreat production department motivating many rural women & procuring crop from local organic farmers.
She travels all through India and communicates with the farmers who grow naturally or organic farms & procures the best for handcrafting Nutreat. Toor dal she procures from the districts of Andhra Pradesh is a best example for how she evaluates a crop. The unique taste of Nutreat is exactly from the unique crop that we select.
100% natural and hand crafted foods done with great passion from the purest & freshest available. You can definitely take my promise of treating you with the best premixes for any of your requirement. Hope you enjoy the treat & you will never get bored.